How to Configure a Custom 404 Error Page in Microsoft IIS Server
The 404 error page is a generic, browser-issued web page that tells a visitor when a page they are looking for can't be found. A custom 404 error page, on the other hand, is a specially-designed page that delivers the same message but in a more helpful, user-friendly way that honors the brand. It can tell the visitor what's going on and what to do next. It can even be crafted to save a sale.
This post walks through the steps of setting up a custom error 404 page if you're a small business administering your own IIS server either directly or through a hosting provider.
How to Identify Your Web Server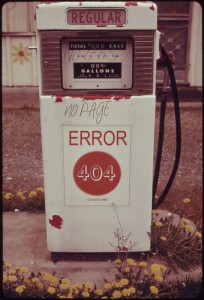 There are several popular (and many more besides) software programs used to store and host web pages, called servers. If you're not sure which  server you use, contact your web host and they'll tell you. If they say it's Apache — and it very well might be since it's the most widely used server on the web — leave this post and read How to Configure a Custom 404 Error Page — Apache Server Edition. Not using Apache? There's a high chance you're using the second most popular web server in the industry, Microsoft IIS. You can also tell if you're using Microsoft IIS server if your website is programmed in .NET or another Microsoft stack, such as ASP.
So, you're using Microsoft IIS? Read on.   
Putting in place a custom 404 error page in Microsoft IIS takes four steps:
Design a custom 404 error page.
Put it in the root directory of IIS.
Edit your Microsoft IIS server properties to deliver your custom error page.
Go for a test run.
This post is going to skip to step three. We're assuming you've already created a branded, custom 404 error page that's designed with both website visitors and search engines in mind. You've also put this page in the appropriate directory so that IIS has it available to serve. If you want to go back to those steps, go to our guide on How to Design a 404 Error Page That Saves a Sale. If you've created and published the page, read on to learn how to tell your server to replace the generic page with the new and improved page.
A Possible Microsoft IIS Complication
Before diving into steps three and four of the process, it's important to note a potential complication regarding your IIS web server. If your website resides on a dedicated server (one that isn't shared) you're good to go with the steps below.
If your website lives on a shared server run by a third-party hosting provider, only the administrator is allowed to make changes to your server files. In other words you will have to contact the hosting provider before you can gain access to the server and implement the changes outlined below. Unfortunately, this might take a while – but hopefully it's a brief setback.
Another way to get administrative rights back in your power if you're on a shared IIS server is to install an ISAPI_Rewrite plug-in into IIS. ISAPI stands for Internet Server Application Program Interface, and you can easily purchase this software from several places.
First, find out what version of IIS you're using. If it's IIS 7.0 or higher, you can download the software from Microsoft. Helicon Tech (www.isapirewrite.com) also creates a good version of the software that can be used on IIS 5.0, 6.0, 7.0 and 8.0.
How to Program Microsoft IIS to Deliver Your Custom Error Page
With administrative rights to make changes to your server files, you can get in there and make the appropriate changes. Exactly how to make those changes depends on the version of the software that you're using. Here's a brief guide for IIS 6.0 followed by another set of instruction for 7.0+.
How to Prepare Custom 404 Error Pages in IIS 6.0
Step 1: Open the Internet Services Manager. The Internet Services Manager is usually located below "Administrative Tools" in your "Programs" list.
Step 2: Expand the list. You can expand the list by selecting the plus sign (+) next to your server name.
Step 3: Expand the web sites in the same way you expanded the server name. Right-click on the "Default Web Site" and select "Properties" from the pop-up menu. If you have renamed the website, select the new name, then choose Properties from the pop-up menu.
Step 4: Click the "Custom Errors" tab.
Step 5: Choose the error 404, and then select the "Edit" button.
Step 6: Browse and choose your new and improved custom error page.
Step 7: After you've selected your page, select "OK" to exit the dialog box.
Once you hit "OK," your custom 404 error page should be live and doing its job.
How to Prepare Custom 404 Error Pages in IIS 7.0+
Step 1: Open the Internet Services Manager.
Step 2: Double-click the Error Pages icon in the IIS section.  
Step 3: Select "Edit Feature Settings," which will display its dialog box. "Edit Features Settings" is located underneath the "Actions" tab.
Step 4: Go to the "Custom error pages" selection.
Step 5:  Define the 404 error code. If someone has previously configured a custom 404 error page, select it and edit it. If this is the first time a custom 404 error page is being configured, click on the "Add" link under "Actions." From there, you can type in "404" as the status code, and select "Insert content from static file into the error response" and put in the path to your custom 404 file.
Step 6: Define the individual error page by adding a custom page for the HTTP 404 error. Then, select "OK."
Test Your New and Improved Custom 404 Error Page
Whether you're using IIS version 6.0 or 7.0+, it's time to check whether your new page is working properly. The easiest way to test your new page is to visit a bogus page on your website. Go to your web browser and type in a fake page on the site, such as www.mywebsite.com/bogus-cheeseburgers.
If the new custom page comes up, congratulations! You've properly set up a custom 404 error page for the Microsoft IIS server. If you're still getting the generic 404 error page, it's time to check some common problems and try again. If you can't see your new page, consider fixing the problem using the following tips.
Troubleshooting in IIS 6.0
Did you use a "URL" instead of a "File"? If you used a "URL," the server will produce a 200 response code. This is a problem because it will allow Google to index the page even though it doesn't exist. To fix this issue, simply swap the "URL" for a "File."
Troubleshooting in IIS 7.0+
Is the ASP.NET functioning properly? To avoid this problem, you can use a static HTML page when entering the absolute URL for the default error page.
Are you logged on locally or remotely? If you're logged on locally, your custom errors will not come up. To fix this problem, return to the "Custom error pages" selection, and change the Mode to "Custom error pages." Then, you'll be able to test your new error pages.
Simple Change, Big Results
Imagine the moment right before you bite into a cheeseburger. You close your eyes, lean in, and open your mouth. What happens next should be a party for your taste buds. But what if the cheeseburger you're about to eat is replaced by something else? Or worse, what if it disappears?
From a visitor's point of view, coming across a 404 error page on your website is an experience much like the one just described — disappointing and confusing. And depending on what they get instead of what they wanted to get, a visitor can lose their appetite. In fact it's not uncommon for a consumer who encounters a 404 error page to immediately click the back button and exit the site completely. A sad ending to a potential conversion.
No one enjoys getting a bite of something they don't want. The good news is that a custom error 404 can save the day. While it might not be the main course that your visitors are craving, a custom error page can be the amuse-bouche that opens their appetites and leads them to the final entrée. Help your hungry visitors get over the shock and disappointment of reaching a generic 404 error page by creating and setting up a custom one. Help them find that cheeseburger and give them something good to eat in the meantime. A properly planned custom 404 error page has the power to lead your visitors and search engine spiders where they want to go, and may just improve your bottom line.
Posted by Melanie Saxe on May 4th, 2015 at 8:57 am
Melanie Saxe
on May 4, 2015
Chelsea Adams
on March 18, 2015
Chelsea Adams
on January 6, 2015
Comments are closed